The Romney/Ryan campaigns new release ad featuring new running mate Rep. Paul Ryan (R-WI). "America's Comeback Team,"
http://www.youtube.com/watch?v=Add2VY0FM7U&feature=player_embedded
Tragically, the destruction of the coal industry is a case study in Obama's heavy handed command and control energy policy. Under this scheme, the chosen industries such as wind and solar companies are showered with government grants and loans while coal – a competing and therefore an undesirable source of electricity – gets punished with excessive regulations.
The numbers don't lie; the share of electricity generated from coal in the U.S. has plummeted to a projected 38 percent in 2012 from 49 percent in 2007. According to the Energy Information Administration, the drop in coal generated power is expected to fall 10 percent from 2011 to 2012.
Unsurprisingly, the shares of coal company stocks reflect the emerging demise of the industry. Shareholders of Peabody, the largest U.S. coal company, watched the company's share price fall about 57 percent since last year and Alpha Natural Resource shareholders experienced a drop of about 70 percent during the same time period.
Obama's hostility toward the coal industry started before he became the leader of the free world. While campaigning for the presidency in 2008 Obama promised his cap-and-trade energy policy would make electricity prices "skyrocket" and he added, "So if somebody wants to build a coal plant, they can – it's just that it will bankrupt them.
"
High gas prices hurting Americans
Sixty-seven percent of Americans say high gas prices have caused a financial hardship in their households; of those, 38 percent say that hardship is serious. Thirty-two percent of Americans say they had not suffered financial hardship to do the rising costs of gas.
Americans with lower household incomes are especially likely to feel pain at the pump. Forty-nine percent of those earning less than $50,000 say hikes in gas prices have caused them serious financial hardship; among those earning between $50,000 and $100,000, only 29 percent say the same thing. That number falls even further to 22 percent among those with incomes of $100,000 and higher.
(CNN)
-- Gas prices jumped 18 cents over the past two weeks, the biggest jump of the year, according to a survey published Sunday.
The average cost of a gallon of regular is $3.69 nationwide, the Lundberg Survey found.
That's nearly 8 cents higher than a year ago, but still 28 cents lower than it was in April of this year.
"Higher crude oil prices, higher corn-based ethanol prices, plus a spate of refinery and pipeline problems around the country combined" are behind the spike, said publisher Trilby Lundberg.
The U.S. drought is pushing up prices for all corn-based products.
It's impossible to predict what will happen with gas prices in the near future, Lundberg said. "The refinery and pipeline issues that have added to the price rise are certainly temporary in nature. But the other two -- the ethanol price rises and the higher crude oil prices -- aren't so easily dismissed as immediately temporary."
But, Lundberg said, she doubts prices will jump this quickly in the near future because many of the refinery issues are being resolved.
The Lundberg Survey tabulates prices at thousands of gas stations nationwide.
The city with the highest average in the latest survey was Chicago, at $4.23.
The lowest average price was in Tucson, Arizona, at $3.18.
Here are average prices in some other cities:
- Boston, Massachusetts - $3.74
- Charleston, South Carolina - $3.43
- Atlanta, Georgia - $3.64
- Indianapolis, Indiana - $3.84
- Denver, Colorado - $3.45
- Tulsa, Oklahoma - $3.54
- Portland, Oregon - $3.74
- San Francisco, California - $4.06
Obama tightens oil and gas drilling regulations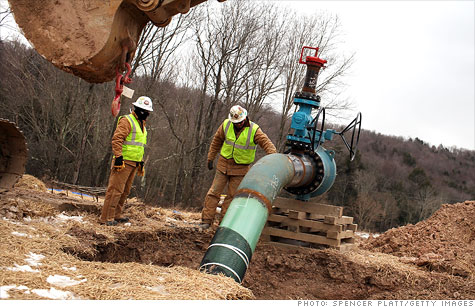 Obama's EPA requires the oil and gas industry to capture air pollution released during well construction, including during the fracking process. But rules give industry time to comply.
NEW YORK (CNNMoney) -- The Obama administration tightened regulations on the oil and gas industry Wednesday, requiring drillers to capture emissions of certain air pollutants from new wells.